Bus Shelter Art Installation. 2015
INSTANT at the Ottawa Art Gallery Art Rental and Sales

#here (details) (from left to right) Angelina McCormick, Christopher Schlesak, Anouk Landry and│et Rémi Thériault (de gauche à droits). Printed by Anne Wanda Tessier
Organized by Anne Wanda Tessier
ART Rental & Sales
September 17 to October 31, 2015
Opening reception: Thursday, October 1, 6pm

Inspired by social media such as Instagram and Twitter, and combining traditional print and photographic methods, Instant is a collaboration between four photographers (Rémi Thériault, Angelina McCormick, Christopher Schlesak and Anouk Landry) and an Ottawa printmaker, Anne Wanda Tessier. Equipped with an old Polaroid camera, each photographer was provided a weekly word, or hashtag, to guide them in capturing the perfect instant for that week. The words were inspired by the latest trends on Instagram and other social media. Each letterpressed word is accompanied by a Polaroid, along with geographic details of the moment the image was captured.
Come discover a different take on capturing an Instant in today's social media age.
Tessier selected a group of photographers with various backgrounds, some who are active on Instagram and others who prefer to use old technology.

Silk screen & painted Coffee Cups. 2014
Bus Shelter Art Installation. 2014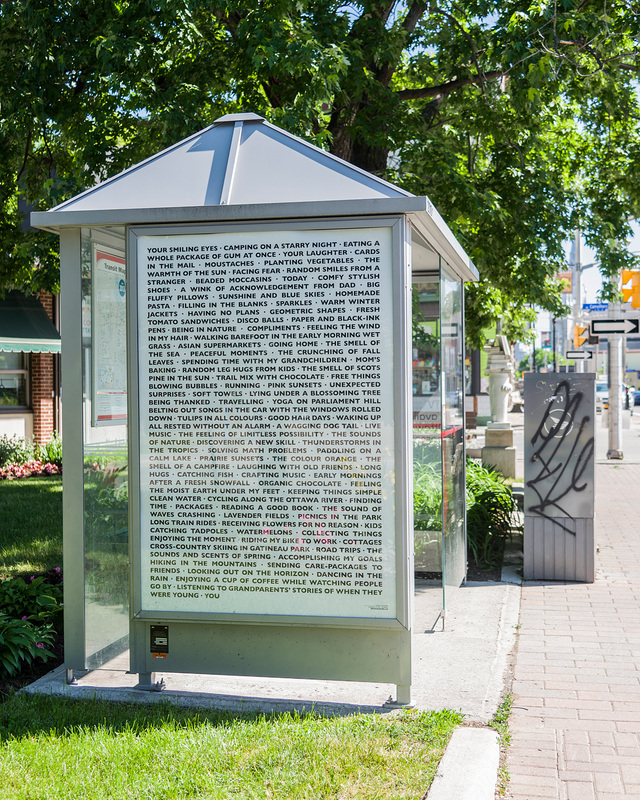 ____________ makes me happy. Bus Shelter Art Installation. Hintonburg Happening 2014. Photo (c) Dwayne Brown
Letterpress Prints. 2013